This post may contain affiliate links. Please read my disclaimer for more information.
Of all the meal courses, dessert is my favorite. Specifically speaking, anything chocolate makes me swoon and my taste buds happy. Of all the meal ideas I have at my disposal, the dessert category has the most recipes hands down! Unfortunately, and as delicious as they can be, dessert is not the kindest to our waistlines. It can also take quite and lot of time, ingredients and energy to make a tasty dessert.
As my goal is to publish quick and healthy meals it follows that quick, healthy dessert recipes will be an important part of my repertoire. Read along to see how you can make quick, healthy dessert recipes that are decadent and delicious!
Cocoa & Cream Chocolate Mousse
Chocolate mousse is a rich, creamy, decadent confection that normally takes a lot of ingredients and a lot of time. To be sure, a lot of the time is waiting for the mousse to set up in the fridge – upwards of 1 hour of waiting time.
My version of chocolate mousse uses few ingredients and you can enjoy it immediately. Moreover, you can make this recipe completely vegan and sugar free if you desire. This mousse checks all the boxes – creamy, velvety, chocolatey and oh so satisfying! Here's how I make chocolate mousse ready to enjoy in 5 minutes!
Ingredients
1 cup cold heavy cream (or 1 chilled can of coconut cream if making vegan version)
2 tbsp cocoa powder or more if you want a more intense chocolate experience
4 tbsp powdered sugar (or 2 tbsp monk sweet with stevia)
1 tsp instant coffee (optional)
1 tsp vanilla extract
1 dash Angostura Bitters (optional)
Instructions
In a small bowl mix together cocoa powder, sweetener and instant coffee, if using. Set aside.
Add heavy cream to chilled mixing bowl. Whip until the cream starts to thicken. If using coconut cream, whip until slightly softened.
Stop mixer and add dry ingredients vanilla extract and angostura bitters (if using) to the bowl with the slightly whipped cream.
Turn on mixer and whip mixture on medium-high until mousse forms.
Spoon into cute ramekins or wine glasses and top with reserved whipped cream or berries. Voila! A quick, healthy, keto-friendly dessert (if sweetened with a sugar substitute).
Raspberry & Cream Cheese Puff Pastry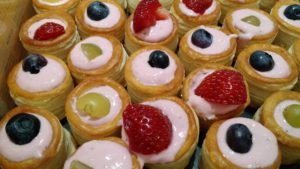 There's nothing like a light and airy puff pastry with a nice cup of after dinner coffee. You'll be pleasantly surprised by how quickly you can make this recipe. All you need are few ingredients, an oven and about 15 minutes of bake time.
The secret to making this recipe quickly is by using frozen, pre-made puff pastry dough. Now hold on, I can hear you saying "how can that be healthy?" Believe it or not there are healthy commercial options for puff pastry that are wholesome and not full of preservatives and unpronounceable ingredients. I like Trader Joe's All Butter Puff Pastry – it contains only 5 ingredients: flour, water, butter(milk), salt and vinegar.
So, how do we make raspberry and cream cheese puff pastries? Follow along below for instructions.
Ingredients
1 (8 oz) package cream cheese softened
1.5 cups fresh raspberries
2 tsp lemon juice
1/3 cup sugar or 2.5 tbsp monk sweet with stevia
1 tsp vanilla extract
1 large egg + 1 tbsp water
1/2 cup raspberry preserves
2 sheets puff pastry, thawed
Instructions
Pre-heat oven to 400 degrees.
Beat softened cream cheese in a stand mixer until creamy and smooth
Add lemon juice, sugar, vanilla and beat until combined. Set aside.
Add the raspberry preserves to a small saucepan and heat until it becomes liquid.
Add the fresh raspberries to a small bowl and pour liquid raspberry preserves. Mix well so berries are coated. Set aside.
Roll out thawed puff pastry on lightly floured surface. Follow directions on package to score out 10 simple squares.
Spread the cream cheese mixture evenly over 5 of the puff pastry squares. Leave room at the edges for sealing.
Spoon raspberry mixture in the middle of the cream cheese on the squares.
Cover the filled pastry with the remaining puff pastry and use a fork to seal the edges of each square.
Use the tip of a knife to make a small slice on the top of each pastry. This helps them to vent and not explode.
Beat egg and water together in a small bowl to make egg wash. Brush each pastry with egg wash.
Bake pastries in oven for 15-18 minutes until golden brown and puffed.
Let pastries cool before enjoying.
Once the pastries are cooled, you can spoon over a bit of leftover liquid from the berries to make a glaze. Enjoy with a nice coffee or chai latte.
No-Bake Date Fudge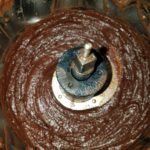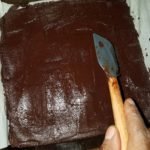 This no-bake date fudge takes about 30 minutes to set up but uses just a few healthy ingredients – soaked medjool dates, 100% cocoa baking chocolate, cocoa butter (or coconut oil), heavy cream (or full fat coconut milk) and cocoa powder.
This quick and healthy confection is paleo-compatible and chock-full of satisfying fiber and yummy chocolate. Here how to make it.
Ingredients
6 oz dagoba 100% cocoa baking chocolate bar (may use a different brand)
6 tbsp food-grade cocoa butter or coconut oil
16 oz soaked medjool dates (soak PITTED dates covered in water for 10 minutes)
1/4 – 1/2 cup heavy cream or full fat coconut milk
3-4 tbsp cocoa powder
1.5 tsp vanilla extract
Instructions
Melt chocolate bar and cocoa butter together over a double boiler or in a bowl over water in a saucepan on medium heat. Stir occasionally to fully blend. Set aside to cool.
Place soaked dates in a food processor with a chopping blade. Add the cooled chocolate mixture and the heavy cream or coconut milk if using. Process until dates becomes a smooth paste.
Add cocoa powder, vanilla extract and process until mixture becomes fully blended – about 1 to 2 minutes. Be sure to stop processing occasionally to scrape down the sides of the bowl so all ingredients are fully incorporated.
Scoop mixture into a square 8×8 pan lined with parchment paper. Use a silicone spatula to evenly spread fudge in pan. Cover with another piece of parchment paper.
Place pan in refrigerator and let set for 30 minutes.
Cut fudge into 16 squares before eating. You might see some streaks throughout the fudge. These are lines of cocoa butter that didn't fully blend into the fudge. It's totally fine and doesn't interfere with the flavor.
Enjoy this fudge with a dollop of fresh whipped cream and blueberries.
Frozen Berry Sorbet
This sorbet recipe is one of the easiest and quickest dessert recipes you can make. The only caveat is that you have to use a heavy duty blender to whip up this cold and refreshing delight. A VitaMix or Ninja Blender would work perfectly.
This sorbet is definitely healthy because the main ingredients are antioxidant rich frozen berries and protein rich Greek yogurt. Together they make a powerhouse of a healthy dessert.
Here's how to make this quick healthy dessert recipe.
Ingredients
2 cups frozen mixed berries (raspberries, blueberries and strawberries make a nice mix)
3/4 cup vanilla Greek yogurt
1 tbsp honey or agave nectar
Instructions
Let frozen berries thaw for about 10 minutes before you begin. This results in a smoother, less grainy texture for the final product.
Place berries into a high-powered blender like a VitaMix or a Ninja
Add yogurt, and honey or agave nectar.
Blend for about 1 minute until it forms the texture of a sorbet
Use an ice cream scoop to place sorbet into serving bowls.
The sorbet is ready to eat at this point but it might be a bit soft. Place in the fridge to set up for 30 minutes or so before enjoying.
Serve with a dollop of fresh whipped cream.
Healthy Dessert – It's What's After Dinner!
I hope that these recipes prove that you can enjoy quick, guilt-free desserts any time of the week. After enjoying one of our quick and healthy meals, top it off with a nice quick and healthy dessert.
Let us know if you try any of these recipes in the comments. I'd love to hear your thoughts!