This post may contain affiliate links. Please read my disclaimer for more information.
I recently reviewed the Low Karb Keto Bread Mix, so this review will be specific to Low Karb's low carb Keto flour. As you may know by now, I follow a keto-ish lifestyle and, I am always on the lookout for keto-friendly, low carb flour. I save my excitement for low carb flours that are as close to regular flour as possible – one that doesn't require any mixing or blending on my part.
I was more than a little excited when I discovered this new low carb flour by Low Karb – a fairly new company specializing in low carb flours, mixes and cereals. Curiosity piqued, I decided to purchase two of their products – the Low Karb Keto Bread Mix and their low carb Keto all-purpose flour. You can read my review for the bread mix here but for this article, I'll be reviewing their Low Karb Keto Flour.



What's In Low Karb's Keto Flour?
I almost didn't buy this keto flour because when I researched its ingredients, the first one that showed up was carbalose flour. I already know about and use carbalose flour, what would be the value in purchasing the same thing, albeit under a different brand name?
Upon further inspection of the ingredient list, I noticed a few more items in addition to carbalose. The Low Karb brand of keto flour also contains palm and palm kernel oil, buttermilk powder, baking powder, egg white powder, lecithin, salt, and natural flavors. Given these extra ingredients, I went ahead a bought a one-pound bag of Low Karb's Keto flour.
I received my bag of Low Karb Keto flour and I opened it right away as I was curious about its appearance. The first thing that I noticed was that the flour was not fine and even textured, rather it looked like it had bits of white flakes throughout. It was highly reminiscent of the appearance and texture of Carbquick baking mix. This image shows what it looks like.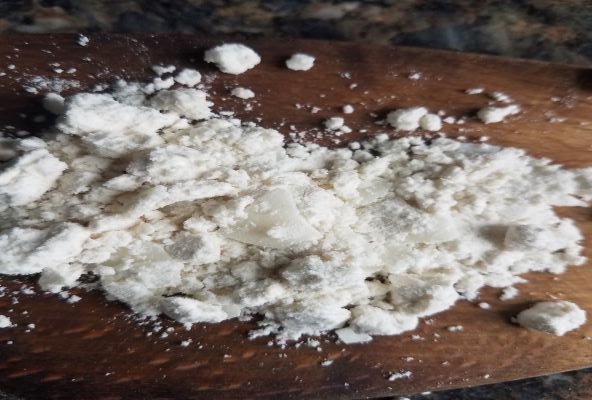 How Do You Use Low Karb Keto Flour?
According to the package, you can use Low Karb's Keto flour as a direct replacement for all-purpose flour, it even claims that you can just add water, mix and bake for a loaf of bread. Low Karb keto flour's highest bragging point, is that it only contains 2 grams of carbs per serving.
The package also helpfully provides two keto-friendly recipes, one for a breading mix and another for their Low Karb Keto Pizza. I appreciate the fact that both recipes are simple and best of all can be done in just a few minutes. Recipes notwithstanding, I had to do my own experiment using this keto flour to see if it was as good as or even better than my beloved Carbalose Flour and/or Carbquik Bake Mix.
Results From My First Attempt
One of the things I missed the most after going on a keto-ish lifestyle was bread so I immediately researched and learned how to make low carb bread reminiscent of regular bread. More often than not, however, I prefer to just make a quick flatbread because I find them very versatile for use in any meal.
That said, the first thing I attempted to make with the Low Karb Keto Flour was low carb tortillas. I've always had very good results with this recipe using carbalose flour, so I expected similar results with this keto flour. I couldn't be more wrong. Take a look at these images and you'll see what I mean.
Keep in mind that this is a very simple and forgiving tortilla recipe containing only a few ingredients (low carb flour, butter, water, and salt) and I usually have great results using einkorn flour or carbalose flour. Not so in the case of Low Karb's Keto flour. The tortillas came out brittle and oily yet dry, just the wrong texture overall.
In the end, I came to the conclusion that I probably needed to use less butter than called for because the low karb keto flour was already fortified with palm kernel oil. I have a feeling though, that the outcome for any tortillas made with this flour wouldn't come out much differently than they already did with this recipe.



Is Low Karb Keto Flour Worth It?
As I mentioned above, the texture of Low Karb's Keto Flour is similar to Carbquick Baking Mix and it turns out that when I compared the ingredient list for both products, they were exactly the same! In essence, Low Karb Keto Flour is a repackaged version of Carbquick Baking Mix.
They say imitation is the highest form of flattery but in this case, you'd do best to purchase the original Carbquick Baking Mix. I give this recommendation for two reasons:
Price
Product Misnomer
Let's start with the first on the list, price. On Amazon, for example, a one-pound package of Low Karb Keto Flour costs $12.99 whereas a three-pound box of Carbquick costs $14.22. You can even get Carbquick (3 lbs) for as low as $12.00 on other sites! Need I say more?
Next, and to me, just as important as price, is Product Misnomer. What I mean by this is that this product is being sold as a low carb flour for use as a direct low carb replacement for regular all-purpose flour. Low Karb Keto Flour is NOT a low carb replacement flour, rather it's a baking mix that is more suitable for items such as pancakes, biscuits and the like.
I dislike being misled by product misnomer because I expect certain things to remain constant for any ingredient I use in my recipes. If I am buying flour I expect flour, not a baking mix.
Final Thoughts On Low Karb Keto Flour
There is nothing inherently wrong with Low Karb Keto Flour if you're looking for a low carb version of Bisquick. I take umbrage with the fact that Low Karb is advertising it's Keto Flour as an all-purpose replacement for regular flour. This is simply not the case and if you attempt to make a yeast bread or a flatbread with this flour, I'm afraid you'll be disappointed with the results.
Aside from the fact that it doesn't really act like all-purpose flour, Low Karb Keto Flour is rather expensive and you'd be better off buying carbalose flour – an actual low carb, all-purpose flour for your bread or Carbquick for your low carb Bisquick replacement.
Do you follow a low carb diet? Have you tried Low Karb Keto Flour? Let us know in the comments, and until next time: Happy Eating!