This post may contain affiliate links. Please read my disclaimer for more information.
Since I started eating Keto-IF, I've found meal preparation to be infinitely easier. Many of my main meals only include a lean protein with a vegetable side dish or two. I always aim to make meal planning quick and easy, so I make sure to buy a variety of vegetables (frozen and fresh) whenever I grocery-shop so that I always have some on hand for every meal.
In this article, I'll publish four easy vegetable side dishes that you can enjoy for lunch or dinner. These recipes are so easy that they don't warrant separate recipe pages. My only caveat is that you keep your kitchen stocked with aromatics like garlic, onion, shallots, tomatoes, scallions, spices, etc. to make your vegetable side dishes pop with flavor.



Steamed Spinach w/ Balsamic Vinaigrette
I'll be the first to admit that I never really cared for vegetables of the green leafy kind, but, I know that I need to consume them for the benefit of my health. So, in keeping with my love of keeping it simple, I've relied on this steamed spinach recipe to help me eat my veggies and enjoy it too.
I found this recipe on a bag of spinach and modified it to fit my keto way of eating. Here's what you need to make this quick and easy vegetable side dish:
Ingredients:
Large bag of baby spinach leaves
1 small shallot, diced
1 tablespoon diced green pepper
1 clove of garlic, grated
1 tablespoon honey
1/2 tablespoon brown sugar (I use keto-friendly monk sweet with stevia)
2 tablespoons avocado or olive oil
4 tablespoons balsamic vinegar
1/2 tsp crushed red pepper
salt and pepper to taste
How to put it all together:
Place bag of spinach in microwave and cook for 2-3 minutes according to instructions of the bag. Put spinach in a bowl and set aside.
Mix the dry ingredients together. Add oil and vinegar to a blender jar, add in the dry mix, garlic and honey. Blend.
Pour out the mixture into a container and stir in diced shallot and green pepper. Mix well.
Pour vinaigrette mix onto prepared steamed spinach and toss well.
This easy spinach side dish is savory, with the perfect amount of sweetness, spiciness, and acidity. The flavors dance on your tongue and make eating spinach a delectable experience. Use it as a vegetable side option for lunch or dinner.
Garlic-Butter Broccoli Rabe
Okay, so even if the spinach recipe was quick and easy, it has a lot of ingredients. I usually make a double batch of the vinaigrette for use in future meals and that makes life simpler. This garlic and butter broccoli rabe recipe, by contrast, has a very short list of ingredients. Here's how to make it:
Ingredients:
1 bag of frozen broccoli rabe
2 cloves of garlic, grated
3-4 tablespoons of organic butter
Salt and pepper to taste
Instructions:
Prepare frozen broccoli rabe on stove-top or microwave following instructions on the bag.
Place skillet on medium-low heat and add two tablespoons of butter.
Add grated garlic to butter and saute for 30 seconds until slightly toasted.
Drain broccoli rabe and add to skillet with butter and garlic, add salt and pepper, and remaining tablespoons of butter.
Heat through and stir garlic, butter, and broccoli-rabe until everything is well incorporated.
This recipe tames the bitter notes of broccoli-rabe while imparting the savory flavors of garlic and butter. I sometimes pair this side-dish with another vegetable side dish like cauliflower mash or sliced beets.



Stewed Okra with Tomatoes
A lot of people are put off of okra because they find it too slimy, me on the other hand, I love okra! Okras are chock-full of nutrients like fiber, folate, and vitamin k, and they are used in many natural remedies to fight diseases like diabetes. You can choose to cook the whole okra pod or slice them up for stews or soups.
My favorite way to have okras is to make a quick stew containing garlic, onions, tomatoes, and spices. It's very easy to make and you only need 10 to 15 minutes for this delicious vegetable side dish. Here's the quick and easy recipe:
Ingredients:
1 bag of frozen sliced okras
1 large tomato, diced
1 small onion diced
2-3 cloves garlic grated
Dried spices to taste (salt, pepper, thyme, rosemary, turmeric, and crushed red peppers)
2 tablespoons of oil (I use avocado oil)
Instructions:
Cook frozen okra slices on stovetop following the instructions on the package. Drain and set aside.
Add oil to a medium-sized skillet or pot over medium heat.
Add diced onion and saute until they are soft and translucent
Add grated garlic and stir into onions for 30 seconds
Add spices to garlic and onion in the skillet and stir to mix
Add diced tomato to the garlic, onion, and spices and stir to mix well. Let cook for a few minutes.
Add cooked okra to the skillet and stir into the mirepoix of garlic, onion, tomatoes, and spice.
Let okra stew for 3-5 more minutes so all the flavors blend.
Your okra stew is now ready to enjoy as a side or over rice for a healthy and filling vegan meal.
Garlic Roasted Asparagus
My recipe for garlic roasted asparagus is the easiest of the vegetable side dishes in this article. Asparagus is another vegetable that's full of nutrients like protein, fiber, vitamins, and trace minerals. It's a good all-rounder vegetable even though it leaves most of us with weird-smelling bodily fluids!
Here's my quick and easy recipe for garlic roasted asparagus:
Ingredients:
2 bunches of fresh asparagus
3 cloves of garlic, grated
2 tablespoons oil (olive or avocado is fine)
Spice mix to taste (salt, pepper, onion powder, crushed red pepper flakes)
Instructions:
Wash, trim and dry asparagus and place in a bowl.
Add oil, garlic, and spice mix to a bowl. Toss well until the asparagus is well coated.
Bake in a 400-degree oven for 20 minutes.
When it's finished, the asparagus roasts to slightly brown in color and takes on a sweet, nutty flavor. I love pairing garlic asparagus with another vegetable side and my protein for a delicious and satisfying meal.



Want Good Health? Eat More Vegetables!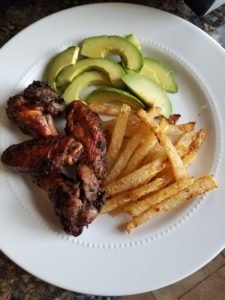 There you have it, four easy vegetable side dishes that you can make in 15 minutes or less. You can also make quick vegetable sides like:
Air-fried or baked jicama or sweet potato fries
Boiled beets
Sauteed broccoli florets
Cauliflower mash
Smashed brussels sprouts topped with cheese
Asian vegetable stir-fry
The beauty of these easy vegetable sides is that you can use a wide variety of frozen vegetables along with a few other aromatics to make delicious sides that even vegetable haters will like. Feel free to mix and match your vegetable sides for optimum benefits.
What are your favorite vegetable sides? Let me know in the comments. Until next time: Happy Eating!