This post may contain affiliate links. Please read my disclaimer for more information.
I never knew how much I missed having snacks as I did when I was strictly following the Keto diet. I especially missed having crunchy, crispy, salty snacks like crackers and popcorn. Now that I am following a relaxed version of a low carb diet, I do indulge in homemade snacks while still sticking to the basic tenets of my diet.
I created these quick and easy snack recipes that are full of nutrients while satisfying that craving for a little something sweet or salty. Snacks can enhance our diets by providing a boost of energy during the mid-morning or mid-afternoon slump, as long as we don't include anti-nutrient ingredients when making them.
Snacks can be both healthy and delicious and you don't need to derail your diet for you to enjoy them! Dive into this post to find your new favorite snack – sweet, savory or salty – that you can enjoy guilt free!



Einkorn Cheese Crackers
I really craved and missed crispy foods like crackers during my keto stint. I tried eating fried pork skins to get the crispy texture that I missed in my beloved cheez-its but I really didn't enjoy the musty taste. The saltiness and crunchiness were good, but I had shunned pork for many years and I just couldn't get past the smell and taste.
Now that I am following a low carb diet that contains whole and natural foods, I used my favorite flour to create these crispy, salty, and spicy cheese crackers.
Einkorn Cheese Crackers
A cheesy, salty, crispy cracker that will satisfy your snack cravings any time of day. Made with nutrition-packed einkorn flour you can't miss with these crackers!
---
Ingredients
4 1/2 Ounce (oz) Einkorn Flour
8 Ounce (oz) Manchego Cheese or Cheese of Choice
3 Tablespoon (TBSP) Earth Balance Buttery Spread or Butter
1 Whole Egg
1/2 Teaspoon (tsp) Crushed Red Pepper Flakes
1/2 Teaspoon (tsp) Paprika
1/2 Teaspoon (tsp) Salt
1/4 Teaspoon (tsp) Ground Black Pepper
---
Directions
Grate cheese and set aside. Mix together crushed red pepper flakes, paprika, salt and black pepper.
Add grated cheese, softened earth balance or butter, egg and spice mix to the bowl of a food processor. Pulse until ingredients becomes a smooth paste.
Add einkorn flour to bowl with cheese mixture. Pulse until the flour and cheese mix are incorporated. Do not over mix.
Pull dough from bowl of food processor, place on parchment paper and roll into a 12" log. Wrap dough log in plastic wrap and refrigerate for at least 3 hours or overnight.
Pre-heat oven to 350 degrees. Remove dough log from fridge and cut out thin slices to make the crackers. Place crackers on a cookie sheet lined with parchment paper and bake in oven for 18 minutes. Remove crackers and turn over. Place back in oven and bake for 3 more minutes from oven.
Let crackers cool before enjoying then with a bit of fruit and/or cheese. They're also pretty good on their own.
Nutrition Facts
Servings Per Recipe 11
---
Amount Per Serving
Calories 166
Calories from Fat 103
% Daily Value *
---
Percent Daily Values are based on a 2,000 calorie diet. Your daily values may be higher or lower depending on your calorie needs.
These crackers are full of the great nutrients found in einkorn flour plus it has the pleasant tangy taste of manchego sheep cheese and a little spiciness provided by red pepper flakes. These are so good they're a thousand times better than cheez-its!
Spicy Lamb/Beef Jerky
One of the snacks that was acceptable for all the diets I followed, is the humble meat treat known as jerky. Jerky is the perfect snack food for the Paleo, Keto, Atkins or any other diet really. It's a great source of belly-filling lean protein and it tastes great! One of the best things about jerky, is you can season it however you like. If you like a spicy jerky, go crazy with the chilli and red pepper flakes. If you like it a bit sweeter just add some molasses or honey. Make it your own way.
Spicy Lamb or Beef Jerky
---
Ingredients
2 Pound (lb) Sliced Top Round Beef Strips or Boneless Lamb Sliced into Strips
3/4 Cup Worchestire Sauce
3/4 Cup Tamari
1 Teaspoon (tsp) Liquid Smoke
1 Teaspoon (tsp) Chipotle Powder
1 Teaspoon (tsp) Black Pepper
1 Teaspoon (tsp) Paprika
1 Teaspoon (tsp) Red Pepper Flakes
1 Teaspoon (tsp) Garlic Powder
1 Teaspoon (tsp) Onion Powder
1 Tablespoon (TBSP) Molasses or Honey
---
Directions
Whisk worchestire sauce, tamari sauce, paprika, molasses, black pepper, red pepper flakes, garlic powder, and onion powder together in a bowl. Add sliced meat to bowl and turn to coat completely. Cover the bowl with plastic wrap and marinate in the refrigerator up to 3 hours or overnight.
Lay seasoned meat on the trays of a dehydrator and dehydrate according to the instructions on your dehydrator (about 4 hours at 160-degrees) You can use the oven if you don't have a dehydrator. Preheat oven to 175 degrees. Line a baking sheet with aluminum foil and place a wire rack over the foil. Place meat on paper towels to dry off excess marinade. Discard remaining marinade. Arrange meat slices in a single layer on the prepared wire rack on the baking sheet.
Bake meat in the preheated oven until dry and leathery about 3 to 4 hours. Let cool before enjoying.
Nutrition Facts
Serving Size 5 Ounce (oz)
Servings Per Recipe 6
---
Amount Per Serving
Calories 286
Calories from Fat 90
% Daily Value *
---
Percent Daily Values are based on a 2,000 calorie diet. Your daily values may be higher or lower depending on your calorie needs.
This recipe is so simple anyone can do it. Make your spice rub (wet or dry), season your meat strips and dehydrate. Voila! Tasty homemade jerky. Just make sure to discard the leftover marinade/rub used to season your meat. Also, keep in mind that you can use any type of lean meat to make jerky, not just beef or lamb. If you have access to other types of exotic meats like ostrich, bison or elk, you can make those into jerky to have a nice selection at your finger tips.



Root Vegetable Chips
I was never much of a potato chip eater because I find them to be boring. The chip game has been revolutionized, however, and today we have a variety of vegetable chips at our disposal. I especially liked the Terra brand chips with its blend of uncommon root vegetables. I grew up eating many of these same root vegetables (cassava, eddoes, taro, plaintains, etc.) so I was delighted to find a snack chip with these ingredients.
Since I like to replicate store-bought foods into a healthier home version, I created my own vegetable chip recipe using some of these same root vegetables including beets, sweet potatoes, turnips, carrots and taro. This colorful blend is full of fiber, anti-oxidants and vitamins. Who knew that a snack food could be so healthy!?
Root Vegetable Chips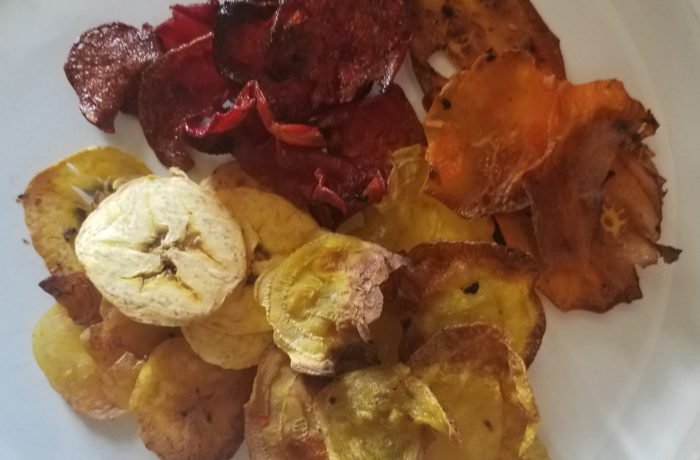 Crispy, crunchy, healthy and delicious! You can add these vegetable root chips as a side to any meal or enjoy as a snack anytime you're craving unhealthy, store-bought potato chips.
---
Ingredients
2 Whole Beets (medium size)
1 Whole Turnip (large)
1 Whole Carrot (large)
1 Whole Sweet Potato (Small)
1 Whole Plantain (Medium)
1/2 Teaspoon (tsp) Salt
1/2 Teaspoon (tsp) Ground Black Pepper
1/4 Serving Garlic Powder
1 Quart Avocado Oil
---
Directions
Cut, peel and slice all vegetables using a sharp knife or a mandolin to make thin chips.
Season sliced vegetable chips with salt and pepper. Fry chips in a deep fryer until golden brown and crispy. Or coat chips with cooking spray and bake at 400 degrees for 10 minutes until brown and crispy. Or coat chips with cooking spray and air-fry at 400 degrees until crisp.
Keep an eye and remove the chips that brown first before they burn. Cool before eating.
As with most of my recipes, you can modify the ingredients as well as the form of cooking. This vegetable chips recipe may be fried in hot oil for a super crunch or you can make it a bit healthier by spraying the raw veggie chips with cooking oil spray and baking in a 400-degree oven. Crunchy, sweet, salty and savory – these vegetable chips hit the spot for when you're craving chips.
Low-Sugar Chocolate Bon-Bons with Nut Butter
I couldn't make a post about snacks without including my favorite food chocolate, so I'm including my recipe for low-sugar chocolate bon bon-bons. This recipe, with the help of a candy mold, produces cute little nut butter filled bon-bons. They're so good you won't believe there's hardly any sugar in them.
I find semi-sweet chocolate to be sweet enough, so I don't add any other sweetener to these bon-bons. If you prefer a sweeter chocolate, use my favorite powdered sweetener monksweet+ with stevia to add more sweetness without adding more sugar this homemade chocolate candy. These bon bon-bons are quick and easy to make and come in quite handy when I want something sweet without having to do too much work.
Low-Sugar Chocolate Bon-Bons
A delightful low sugar chocolate candy for those moments when you just have to have some chocolate without worrying about eating too much sugar.
---
Ingredients
1 Bar Semi-Sweet Chocolate Bar
1 Ounce (oz) Cocoa Butter
1 Tablespoon (TBSP) Cashew Butter (or any nut butter of choice)
1/2 Teaspoon (tsp) Vanilla Extract
---
Directions
Melt semi-sweet chocolate bar and cocoa butter in a double boiler or place in bowl over a pot of simmering water until melted.

Stir vanilla extract into melted chocolate and pour chocolate mix into candy mold. Place dollops of nut butter into the center of each bon-bon and place in refrigerator to firm up.
Once set, de-mold the chocolate bon-bons and enjoy!
If you don't have a candy mold, you can use a mini-muffin tin lined with a bit of parchment paper so they won't stick. Using a mini muffin tin also makes them into little homemade Reese's pieces but with your own twist on the filling. I sometimes use almond or peanut butter for the center, but you can use whatever you like, it'll still come out delicious.
Yes, You Too Can Make Tasty & Healthy Snacks
I hope I've proven that you can make quick, easy and healthy snacks from the comfort of your own home. There is no need to buy snacks that are loaded with sodium and other chemical or artificial ingredients. Instead, use these recipes to create your own sweet or savory snacks. You can even alter some of the ingredients to suit your own taste.
When it comes to taking care of our health there is nothing better for us than clean, organic and natural foods. It's true that buying organic and other clean, natural foods can be expensive, but I wholeheartedly believe that it is worth paying the extra cost for good food. Feed your body well and it will reward you for years to come!
Let me know if you try out any of these recipes. Until then, Happy Eating!